Featured Art Library: Mui Ho Fine Arts Library, Cornell University
Date posted
October 12, 2020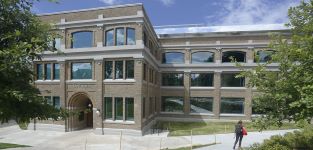 What used to be a red-bricked fortress is now a cathedral of space. In a renovated and repurposed building that's more than 100 years old, the Mui Ho Fine Arts Library (FAL) opened its doors to the public just over a year ago. FAL occupies the upper floors of historic Rand Hall, beneath which is the fabrication shop, used by the College of Architecture, Art, and Planning (AAP), the college where the library is embedded.
Rand was constructed in 1911 as a three-story space. For this renovation, former AAP dean, Kent Kleinman, wanted the space to be "respectfully restored and radically re-inhabited." The fabrication shop remained in the same location on the first floor of the building, but the third floor was removed in order to expand the library into a single space. The stacks, which are in four levels, were constructed in an inverse ziggurat shape, meaning that the first level is the smallest, and the topmost floor the largest. These stepped stacks appear to be floating, as they are suspended from the roof of the building, supported by columns and a strong, steel skeleton. The floors are grated metal, which allows for light and air circulation in the library. The Austrian design architect, Wolfgang Tschapeller, an AAP alum, found inspiration for this space in Cornell University's own A.D. White Library with its three-tiered, wrought-iron stacks that serve to showcase books.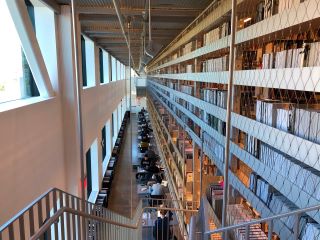 About 40% of FAL's collection is housed in the library (roughly 104,000 volumes), and the other 60% is at the Library Annex. On average, we add about 4,000 titles annually, and it is a circulating collection, with the exception of our reference materials; the current issues of journals; flats (large, rare, and frequently expensive books that were at one time shelved lying flat); some of our student theses; and our modest but impressive teaching collection of artists' books.
Half of the collection is about art, and the other half focuses on architecture and city and regional planning. FAL also has materials on art history, landscape architecture, classics, archaeology, apparel design, museum studies, typography, and many other subjects. Our most highly browsed section is the TRs, or the photography books. It is difficult to keep these volumes in LC call number order!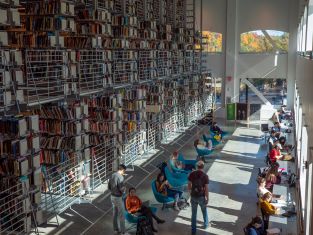 There are individual carrels for public seating, as well as a long desk running along one side of the space, where people can spread out and work collaboratively. There is also soft seating, where patrons can relax with reading materials, including our current periodicals and new books.
We have a small staff of two librarians, a circulation assistant, and an evening/weekend/student supervisor. All of us at FAL are happy to answer questions and help with requests. Do come by if you are in Ithaca, New York!
Photo credits: Top: Bill Staffeld; right, bottom: Carla DeMello