Featured Art Library: The Billy Ireland Cartoon Library & Museum, Ohio State University
Date posted
December 2, 2020
Author: Caitlin McGurk, Associate Curator & Assistant Professor, The Ohio State University Billy Ireland Cartoon Library & Museum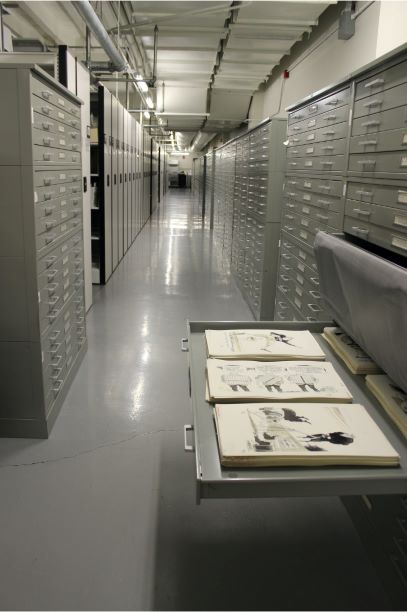 The founding collection was donated by renown cartoonist Milton Caniff, creator of the newspaper comic strips Terry and the Pirates and Steve Canyon. Caniff was an Ohio State alum (class of 1930), and after enjoying an illustrious career in cartooning, felt compelled to leave his legacy material with his beloved Alma mater. He donated, in multiple installments, his entire collection: 696 cubic feet of original art, correspondence, research files, photographs, memorabilia, merchandise, realia, awards, audio/visual material and scrapbooks. Founding curator Lucy Caswell had worked in the journalism library and was hired to catalog the Caniff collection, originally located in two renovated classrooms and designated as The Milton Caniff Reading Room. Caswell recognized how precious these materials were and saw that they were under-appreciated in academic institutions and museums at large. With the goal of establishing a home for the continued collecting and preservation of cartoon art, in the decade between his donation and his passing in 1988, Caniff worked with Caswell to encourage other cartoonists to begin donating their work to Ohio State. We are named for Milton Caniff's mentor, Billy Ireland, who was the lead cartoonist at the Columbus Dispatch from 1898-1935.
Over the more than 40 years since our founding, our collection has grown to be the premier institution for the study of comics and cartoon art. Our holdings include 300,000 original cartoons, 45,000 books, 67,000 serials and comic books, 6,300 boxes of archival materials, and 2.5 million comic strip clippings.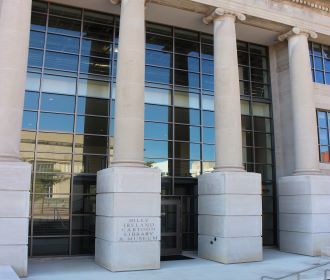 Our primary collecting areas include: newspaper comic strips, underground comix, editorial cartoons and graphic journalism, magazine/gag/single-panel cartoons, graphic novels, U.S. Cartoonists Professional Associations Archives, proto-comics, minicomics and comics fanzines, works by creators from traditionally underrepresented/marginalized populations including Indigenous, Latinx, Black, female, and LGBTQ creators, humor periodicals with cartoons, and collections that reflect the business of cartooning/comics (publishing, syndicates, licensing, etc.). In recent years, our collections have become more robust in the areas of Franco-Belgian and Latin American/Spanish language comics, and we are proud to be one of the largest collections of Japanese language manga outside of Japan.Some of our most notable collections include the Bill Watterson Deposit Collection, the Edwina Dumm Collection (the first woman to work fulltime as a political cartoonist in the United States), the Will Eisner Collection, the Woody Gelman Collection of Winsor McCay cartoons, the Jeff Smith Deposit Collection, Jay Kennedy Collection of more than 9,500 underground comic books, and the San Francisco Academy of Comic Art Collection.
Entrance, Sullivant Hall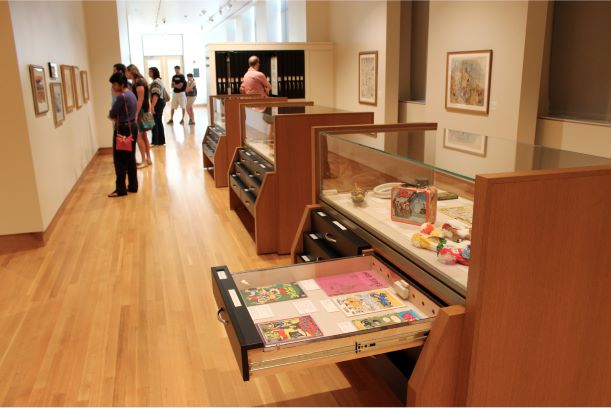 The Treasures Gallery
In 2013, after a previous relocation in 1989, the Billy Ireland Cartoon Library & Museum moved to a stunning and expansive new facility at the gateway to OSU's campus, in the fully renovated Sullivant Hall building. Our near 30,000 square-foot new home not only added collection storage space, but also allowed us to add programming, teaching, and exhibition space. Our Will Eisner Seminar Room is our dedicated comics-classroom space where we hold our BICLM sessions, and other departments who teach classes on comics will often teach out of that space. Our Jean and Charles Schulz Lecture Hall is a 300 seat theater that accommodates our public events, including seminars, lectures, workshops and conferences. Our state-of-the-art museum galleries feature three exhibition spaces, and are open to the public. Admission is free.
As part of our mission as a land grant university, our collections are fully accessible to the public by visiting our Lucy Shelton Caswell Reading Room. We also have a variety of digital resources to explore remotely, including our Digital Collections, Guide to Multicultural Resources, and Digital Exhibits.
During the COVID-19 pandemic, we created a virtual behind-the-scenes tour: https://www.youtube.com/watch?v=uz5OBne_z1U&t=1s
Visit cartoons.osu.edu for more info, and follow us on Twitter, Instagram, and Facebook. Entrance, Sullivant Hall