What Our Members Are Saying: Andrew Wang
Date posted
October 7, 2020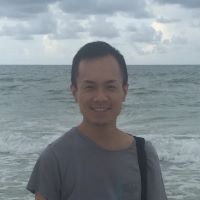 Architecture Librarian, University of Oregon
What do you love about your work?
I love visiting classes and doing information literacy/research methods workshops with students. I like challenging students and exploring ideas together.
What sorts of ARLIS/NA-related projects have you worked on? Is there something in particular that you found meaningful?
I've presented, moderated a couple of sessions, and helped organize the Diversity Forum. I also co-moderated the Graphic Novels, Comics, and Zines SIG, co-founded the Critical Librarianship SIG, and was a member of the Diversity Committee and Strategic Directions Committee. My proudest ARLIS/NA project is co-founding the Notable Graphic Novels Review. That truly began as a grassroots effort. This year's edition is on its way (2020 threw us off our schedule). As much as I love the project, I'll be stepping down as co-editor after this year so we can get some fresh perspectives.
How is anti-racist work part of your professional life? How could ARLIS/NA better support and challenge you in this work?
I'm vocal about my opinions. And I've started walking away from initiatives and groups that don't serve me so I can spend more time taking care of myself. Caring for myself and my BIPOC peers has become more important than educating the white majority.
ARLIS can do better by taking action beyond assessment. We know there are underrepresented groups, we know that leadership is and has historically been mostly white. We need more transparency for how members get their leadership positions and how long their terms are. And then we need to (1) make those paths to leadership clear, (2) explain what kind of work those positions entail, and (3) encourage/incentivize POC to pursue those positions. This is not just my opinion; in a discussion during the Critical Librarianship SIG at the Salt Lake conference attendees were very vocal about the disconnect they feel between the Board and the general membership. And don't push all the work on the Diversity Committee! I think the Board needs to keep in mind that they serve our organization's members, not the other way around.
What are you reading? How is it informing your work?
I'm re-reading Miguel de Unamuno's The Tragic Sense of Life, which has helped me remember that even though we like to champion our ability to reason as a defining characteristic of humanity, we also need to keep in mind the "irrational" faculties that actually govern a lot of our behavior. It's helping me practice more patience with both patrons and colleagues.
What are you finding challenging about adapting library services during this COVID-19 pandemic?
Everything! I also moved across the country and started my current position about a month and a half before the pandemic started. It's taken longer to get to know policies, my colleagues, the institution, the Design Library's collection, etc. I'm also learning how to adapt my teaching/learning materials and methods for remote interactions. I'm finding simplicity is key in online environments. We just put together a bunch of tutorials though, so we're on track for a smoother fall term (I hope!).
Tell us about the kind of library you work in. What do you wish other librarians understood about the kind of library you are in? What makes it great? What makes it challenging?
I work at the Design Library, which is a branch library located in the College of Design's main academic building. I wish people had a better understanding of our library's users. Artists and architects spend their time in the studio, so when they do come to our library I want them to be inspired by our collections. I'm trying to organize displays/exhibits that relate to current events. I also wish I could introduce an open reserve shelf for graduate students and upper level undergrads, especially for folks in the art history department.
How many years have you been a librarian or worked in libraries? What's the biggest change you've experienced in your career thus far?
Just over 3 years as a professional librarian, but I've worked in libraries for about 6 years (I'm counting all my unpaid internships). I'm seeing the biggest changes in library technology and a growing community of BIPOC librarians.