Call for Proposals, ARLIS/NA 2022 Conference, Chicago
Date posted
August 9, 2021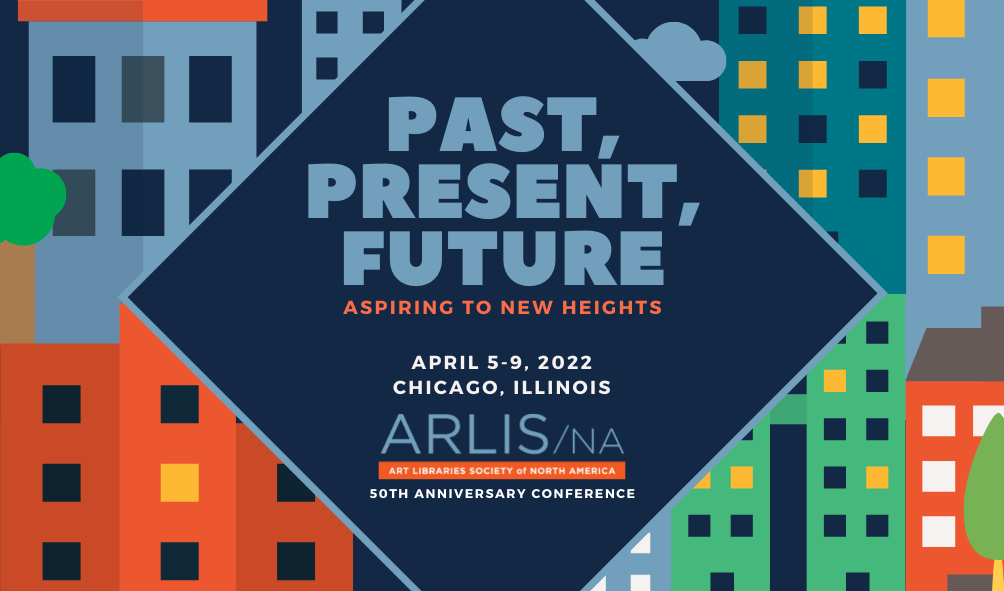 Call for Proposals are now closed.
The Art Libraries Society of North America (ARLIS/NA) will hold its 50th Annual Conference, Past Present Future: Aspiring to New Heights in Chicago, IL, April 5-9, 2022.
As ARLIS/NA celebrates its golden anniversary, the conference theme underscores the history of art librarianship, focuses on the current emergence of new technologies and modes of interaction, and provides an opportunity to consider how the events of the past two years may impact the future. It also reflects Chicago's own story, from the resiliency and optimism that allowed Chicago to reinvent itself as a modern city after the Great Fire, to its development as a city of dynamic diversity where issues of equity, inclusion, accessibility and anti-racism are of paramount importance.
The 2022 Conference Planning Advisory Committee invites fellow librarians and library professionals, archivists, curators, museum professionals, publishers, educators, artists, designers, architects, and scholars to propose papers, sessions, workshops, and speakers that reflect reinvention and the aspiration to reach new heights.
The 2021 conference survey revealed attendees were most interested in the following topics, listed in ranked order. The program committee encourages submissions that include, but are not limited to:
Diversity, Equity, Inclusion, and Accessibility

Local Art and Architecture

Advocacy, Social Justice, Public Policy and Activism

Archives, Rare Books and Special Collections

Collection Development and Management

Critical Librarianship

Digital Humanities and Digital Scholarship

Alternative Publications, Artists' Books, Graphic Novels, 'zines, etc.

Teaching and Pedagogical Practice

Visual Literacy

User Experience
Types of Submissions

Papers
An individual paper presentation, potentially addressing new research, a case study, or an innovative idea with a total time of 15-20 minutes. Presentations provide attendees with new tools, strategies, or inspiration that they can apply in their own practice. The Conference Program Co-Chairs and the Conference Program Committee will group individual presentations into paper panels with a common topic or theme, which will run from 60 to 90 minutes, including a Q&A.
Pre-coordinated Panels
A pre-coordinated session of 2-5 presenters with a moderator addressing a common topic or theme with a total time of 60-90 minutes, including a Q&A. Panels provide attendees with multiple views/strategies on a single topical area, a comparison of tools or methods, or a number of case studies on related topics. It is not necessary to identify all potential presenters before submitting. Naming a moderator, who will advocate for and develop the session, is required.
Speaker Suggestions and Plenaries
A plenary may be a prepared paper or discussion panel of significant importance to the profession. Plenaries are 60-90 minutes in length. No other meetings, sessions, etc. are scheduled during plenaries. The content of plenaries should be current and of broad interest to attendees. Non-member speakers who will speak on a significant topic of interest to ARLIS/NA members may be suggested here.
Workshops
An opportunity to teach and explore current and emerging topics in an intimate atmosphere. Workshops encourage a focused, hands-on experience led by experts who combine presentation, active learning, collaboration, and discussions. They may last two, four, or eight hours. Consider ways to benefit from local educational or cultural institutions in Chicago.
Additional Details
Word Limit
All proposal abstracts are limited to 500 words or fewer.
Learning Objectives
You'll be asked to list 2-3 learning objectives, takeaways, or goals for your proposal.
Topics
You'll be asked to select up to 5 topics relevant to your session.
Audiences
You'll be asked to pick up to 5 target audiences for your session.

New Voices
You will be asked if you are a student or in your first five years of librarianship as you may be eligible for the New Voices in the Profession session.
DEIA-AR
You will be asked if your presentation addresses issues of diversity, equity, inclusion, accessibility or anti-racism. The committee is particularly interested in seeing papers and sessions that include attention to DEIA-AR.
How to Submit Proposals
You must anonymize your proposal description. All personal or institutional names must be removed from the description and learning objectives (however, these details must remain in other fields of the form), and may be replaced by terms such as "presenter," "author," or "speaker", or in the case of institutions, terms such as "large academic library," "small museum library," etc. The review of proposals is a blind peer review process. Non-anonymized proposals may be ineligible.
Call for Proposals are now closed.
The call for posters, roundtables, moderators, and other meeting proposals will be announced later this year.
Please direct any questions to the CPAC Program Co-chairs: