What Our Members Are Saying: Stacy Brinkman
Date posted
December 15, 2019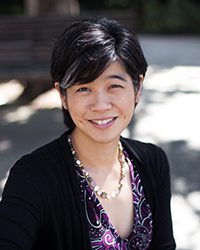 Head of Education and Outreach, University of California-Irvine Libraries
My first professional job as a librarian was as a Resident Librarian at Miami University in Ohio. About a week into my residency, I was called into a meeting with the Head of Special Libraries, where I was asked, "would you be interested in working in the art and architecture library?" Being a new resident, of course I said "yes, that would be an interesting opportunity!" (a week into a new job, could I really say no?). I quickly discovered that I was actually being asked to lead a branch library as the art and architecture librarian, supervising two staff and supporting the scholarship of faculty and students in architecture, interior design, graphic design, art, art education, and art history.
Cue panic.
I had no formal background in art, except for one art history class in college and one class in graduate school (while I was pursuing a degree in literature). I had absolutely no background in architecture. I barely had any library experience. To say I had a lot to learn would be a generous understatement.
I found ARLIS/NA immediately in my pursuit of professional development in art librarianship. To this day I am so thankful for the wealth of information that ARLIS/NA provided for me as I tried to "fake it 'till I made it." I scoured the ARLIS/NA website for documents such as the Core Competencies for Art Librarians, read through issues of Art Documentation and ARLIS/NA Reviews, and joined the ARLIS-L listserv. ARLIS/NA resources were my life raft as I navigated the unknown waters of art librarianship.
I attended my first ARLIS/NA conference in Denver in 2008, knowing no one in the profession. After an initial couple of days feeling lost and very much like an outsider (which probably had everything to do with my own sense of impostor syndrome and my lack of experience in attending professional conferences), I found myself wandering into a meeting of the Education Subcommittee. I am not really sure why I went – I didn't know what committees were or what they did, but maybe I went because I figured I needed some education myself. There I met a group of people -- Heather Gendron, Cara List, Tom Caswell, and others -- who not only made me feel welcome to have wandered into the meeting, but also invited me to participate. It was very meaningful to me at that time in my career to hear from people who I thought of as "real art librarians" that I could also contribute a perspective.
In my experience, ARLIS/NA has been an extraordinarily generous organization – open to multiple perspectives, full of opportunities for newbies, and ready to share knowledge – even if it may seem overwhelming at first. I also found that ARLIS/NA provided me with opportunities for career growth. Beyond the initial resources and networks I found for collection development, teaching, and outreach, ARLIS/NA has provided opportunities to learn about leadership, policy, development, diversity, mentoring, communications, and more. I have met and worked with truly remarkable individuals through the ARLIS/NA community who have helped me to grow personally and professionally. I have been inspired and challenged to grow countless times by ARLIS/NA members who are doing innovative and creative things, asking the difficult questions, thinking outside the box, and moving our profession forward. For these reasons, although I am no longer an art/architecture librarian, I still consider ARLIS/NA my professional "home."