What Our Members Are Saying: Courtney Hunt
Date posted
April 18, 2020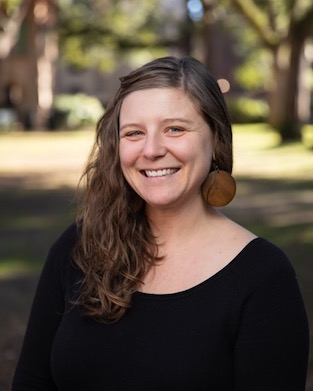 Art & Design Librarian (Assistant Professor), Fine Arts Library, The Ohio State University
1. How did you first become aware of ARLIS/NA?
I was in graduate school looking for resources on pursuing art librarianship. I was interested to know if there was an association for art librarians, and alas, I found it! I wanted to attend the conference immediately, but at the time was working for an institution that didn't have a ton of funding for travel, so I wasn't able to go or justify the time off, as my position was very generalist rather than subject specific.
2. How did you first become involved with ARLIS/NA? When did you become a member?
I first became involved with ARLIS/NA by volunteering for ArLiSNAP. I volunteered for ArLiSNAP because I wanted to get involved in service on the national level, but I felt like such a newbie, and also my job until January 2019 was not an art librarian position. Volunteering for ArLiSNAP made me realize that there are so many of us who want this job but haven't gotten there yet, and we're all in it together, no matter the stage of our career. I became a member about a year ago. I'm newish!
3. What do you find most valuable about being a member of ARLIS/NA?
I find the network of colleagues the most valuable. Being able to discuss what I do with other folks who have similar job responsibilities and serve similar communities of researchers/artists is incredible. Working in a university as vast as Ohio State is really great in so many ways, but I do work in a branch location that can feel a little isolating at times. The ARLIS/NA annual conference and our local chapter meetings have helped me feel plugged into the reality that we have this great web of librarians facing the same challenges and triumphs each day in their job. Needless to say, I am super disappointed that the annual conference has been cancelled this year. It was the right thing to do, and I'm so psyched how many ARLIS/NA members immediately jumped on the listserv to crowdsource important resources for our patrons as all of our universities began closing/going online for the remainder of the semester.
Also super valuable is the active community of critical practitioners within ARLIS/NA. As art librarians, I find that there is a natural inclination toward progressive thinking, but we are still a primarily white group of people that hold a lot of privilege. There's still so much work to do, and I appreciate how many folks in ARLIS/NA are propelling that work forward and surfacing the conversations about how we can do better. Shout out especially to the Critical Librarian SIG and Diversity Committee, as well as the Art Librarian Parents and Caregivers SIG.
4, Describe your involvement with ARLIS/NA? (service/leadership on committees//divisions/sections/chapters, involvement in conference planning, etc.).
I now serve on the Professional Development Committee as well as volunteer as a blog editor for ArLiSNAP. I am also a member of the Ohio Valley chapter which I've found to be a really fun and interesting group of people! Oh—and I've also contributed to Multimedia & Technology Reviews published on the website.
Any other ARLIS/NA related experience you would like to share?
Being a part of ArLiSNAP has been really crucial as a newer librarian. When I attended the annual conference for the first time last spring, it was like I had a built in group of buddies to touch base with. Everyone is so supportive and enthusiastic, and I've really enjoyed volunteering. I've found research collaborators and friends through that group. The ARLIS/NA listserv has also been so helpful, because everyone is always sharing resources!