2023: 51st Annual Conference
---
Tuesday, April 18, 2023
to Friday, April 21, 2023
Mexico City, Mexico
Category: Annual Conference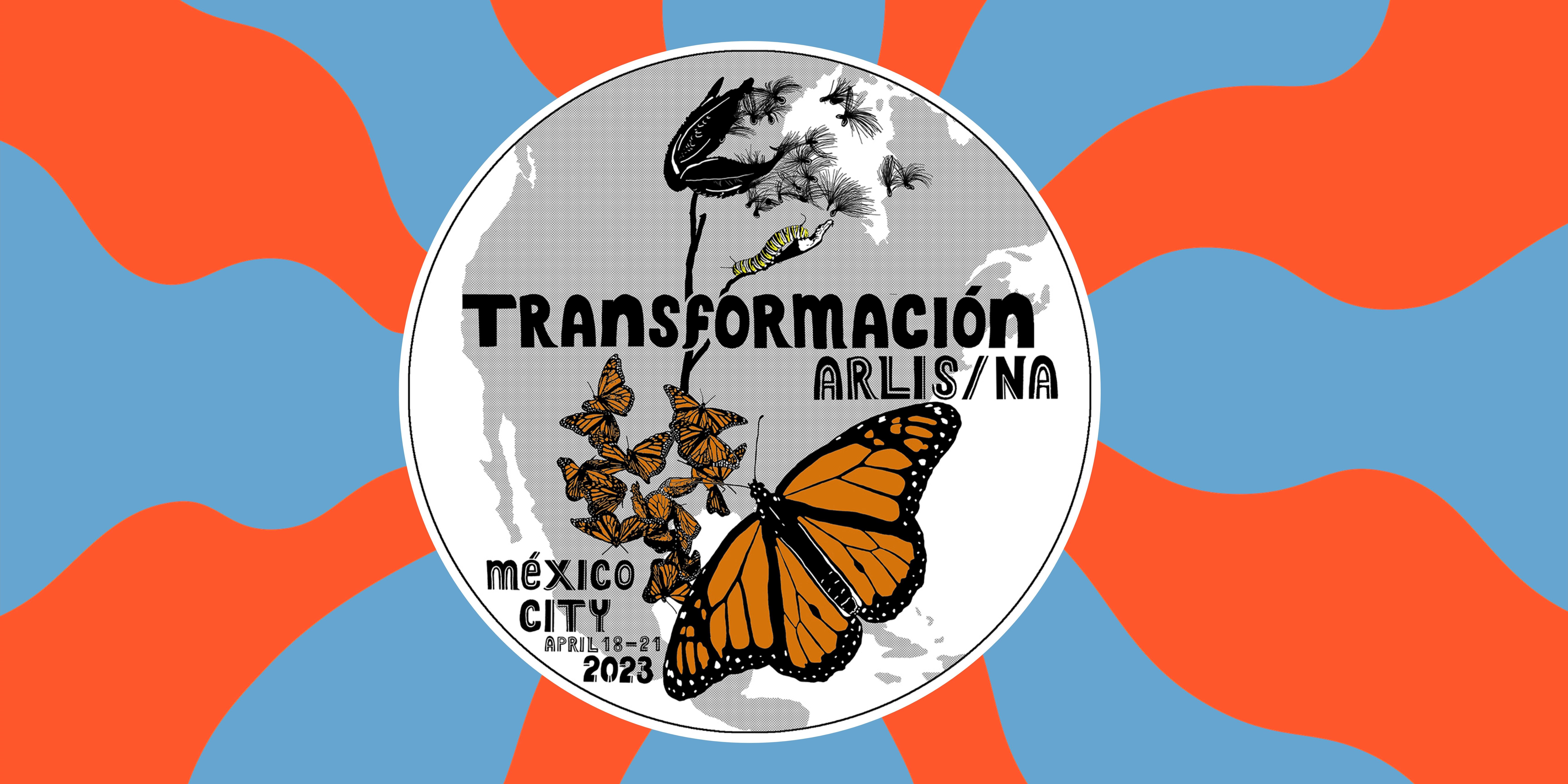 Welcome Hotel Information Exhibitors & Sponsors Program & Schedule
Conference Planning Committee Local Guide Travel Information General Information
Welcome from the President of ARLIS/NA
Like the monarch butterfly traveling from Canada and the US to Mexico each year, next spring ARLIS/NA members will journey southward to meet in the lush surroundings of Mexico City. While marking our 50th anniversary in Chicago, we took a moment to look back at the founding and history of ARLIS/NA. At our 2023 conference, we will highlight our multinational composition and take the opportunity to look ahead to celebrate the promise and possibilities of our future. On behalf of the ARLIS/NA Executive Board and the Conference Planning Committee I am honored and thrilled to invite you to attend and participate in the 2023 annual conference in Mexico City. Whether member, exhibitor, colleague, or friend, we welcome you to join us as the society experiences the adventure of our first conference in Mexico.
With the theme, Transformación, we look to this moment to launch into our next fifty years on a journey of transformation and growth. There is no better place to begin that journey than Mexico City. A UNESCO world heritage city and the oldest capital in the Americas, Mexico City embodies a vibrant, layered history marked by periods of growth and times of revolution. The urban design, art, and architecture of the city reveal the richness of influences alongside the ingenuity and creativity of its inhabitants. These layers are evident in the city today, with a renewed attention to its indigenous origins.
The conference hotel, Hilton Mexico City Reforma, is centrally located on Alameda Central, an expansive historical urban park punctuated with fountains and bounded by museums and cultural institutions that celebrate the arts and history of Mexico. You will find that the hotel, featuring many luxury amenities, is fully accessible and accommodating. All our sessions and our Exhibits Hall will share the same floor allowing for both chance and planned meetings and interactions. Within steps of the hotel, you'll be able to sample the rich, local cuisine at informal food stands or in fine restaurants. Just a few blocks away you'll experience Zocalo Plaza, the main square of the city and site of cultural events and open markets.
As I write this, the conference co-chairs are preparing an impressive schedule of panel sessions, posters, roundtables, and workshops with content related to diversity, equity, and inclusion; advocacy and social justice; and critical librarianship. Added to those are the fundamental topics of collection development and management, visual literacy, digital scholarship, and pedagogical practice. In addition, we'll celebrate our presence in Mexico City by highlighting local art and architecture with programming and tours. No conference would be complete without our exhibitors, who we invite to share this special time and extraordinary place with us.
Having just returned from the planning committee's site visit, I can attest to the boundless energy and seductive magic of Mexico City. It is a city alive with vibrant colors, vivid cultures, diverse people, and exquisite cuisine. Please join us April 18-21, 2023 in Mexico City's Centro Historico at the Hilton Mexico City Reforma.
Looking forward to seeing you there!
Rebecca Price, ARLIS/NA President
August 24, 2022
| | |
| --- | --- |
| | All meeting sessions will take place at the Hilton Mexico City Reforma. This property is a four-star high-rise hotel in the heart of Mexico City, opposite Alameda Central park and just 650 meters from the Palacio de Bellas Artes. The historic center of Mexico City, which is centered around Zócalo plaza, is less than two kilometers away. The hotel features a rooftop pool, a spa, and a two-story convention center where the ARLIS/NA conference will be held. |
We are excited to announce that we have surpassed the estimated demand for our conference hotel, but at the same time apologize for the inconvenience of staying offsite. There are several nearby hotels that you will find more than acceptable.
We suggest that you reserve rooms in one of these hotels:
Hotel Fontán
Address: Av. Paseo de la Reforma 24, Colonia Centro, Cuauhtémoc, 06040 Ciudad de México, CDMX, Mexico
Website
Distance from Hilton Reforma: 290m/0.2 miles (4 minute walk)
Fiesta Inn Centro Historico
Address: Av. Juárez 76, Colonia Centro, Centro, Cuauhtémoc, 06010 Ciudad de México, CDMX, Mexico
Website
Distance from Hilton Reforma: 110 meters/.06 miles (1 minute walk)
Zocalo Central

Address: Av. 5 de Mayo 61, Centro Histórico de la Cdad. de México, Centro, Cuauhtémoc, 06000 Ciudad de México, CDMX, Mexico
Website
Distance from Hilton Reforma: 1.3km/0.8 miles (16-minute walk)
NH Collection Mexico City Centro Histórico

Address: C. de la Palma 42, Centro Histórico de la Cdad. de México, Centro, Cuauhtémoc, 06000 Ciudad de México, CDMX, Mexico
Website
Distance from Hilton Reforma: 1.4km/0.9 miles (17-minute walk)
Please note, these are not the only hotels that are available in the area and only recommendations. No official room blocks have been set up. We encourage you to find the best hotel option that suits your travel needs.
Delta Air Lines is pleased to offer special discounts for the Art Libraries Society of North America.

You may also call Delta Meeting Network® at 1.800.328.1111* Monday–Friday, 8:00 a.m. – 6:30 p.m. (EST) and refer to Meeting Event Code NM2KK.

*Please note there is not a service fee for reservations booked and ticketed via our reservation 800 number.
Registration Rates
See what is included below!
Full Conference

Registration Type

Early Rate
Before March 6 at 11:59PM ET

Regular Rate
March 7 and after

Members and Business Affiliate Members
$395.00
$445.00
Non-Members
$565.00
$615.00
Student Members
$175.00
$225.00
Student Non-Members
$225.00
$275.00
Lifetime and Retired Members
$225.00
$275.00
Unemployed Members
$195.00
$245.00
Virtual (Wed-Friday)
$125.00
$175.00
| | | |
| --- | --- | --- |
| Single Day | | |
| Members and Business Affiliate Members | $150.00 | $165.00 |
| Non-Members | $200.00 | $215.00 |
| Student Members | $60.00 | $75.00 |
| Student Non-Members | $75.00 | $90.00 |
| Lifetime and Retired Members | $75.00 | $90.00 |
| Unemployed Members | $65.00 | $80.00 |
| Virtual One Day | $50.00 | $65.00 |
| | | |
| --- | --- | --- |
| Add Ons | | |
| Accompanying Guest (full conference) | $150.00 | $165.00 |
| Workshops | Various | Various |
| Tours | Various | Various |
Virtual
Live streaming content of the sessions held in the Alberto 3/4 Room will be available to those who register for virtual attendance. Sessions to be streamed were carefully selected to provide valuable programming for individuals who cannot join us in Mexico City. To find which sessions will be available virtually, please find Hybrid content in Sched.
Canadian and Mexico Attendees
We are pleased to offer discounted pricing to our Canadian and Mexico attendees. These reduced rates (approximately 75% of US rate for Canadian members and approximately 50% of US rate for Mexican members) will automatically appear in conference registration and are similar to the membership discount which is based on the estimated exchange rate. Transactions are conducted in US dollars.
Please note, tours and Workshops are subject to change, any changes will be updated on Sched and registrants for the event will be notified via email. You may register for workshops on the conference registration form and register for tours from this link or from the tour entry on Sched.