Featured Art Library: The Cloisters Library and Archives
Date posted
December 8, 2015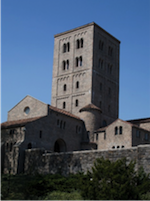 The Cloisters museum and gardens, the branch of The Metropolitan Museum of Art devoted to the art of medieval Europe, is located in Fort Tryon Park in northern Manhattan.
The Cloisters Library and Archives, founded at the time of the museum's opening in 1938, collects research material for the study of medieval art and related topics. The holdings of approximately 15,000 volumes encompass medieval architecture, painting, illuminated manuscripts, stained glass, sculpture, and decorative arts. Works on medieval history, theology, and gardens are also actively acquired.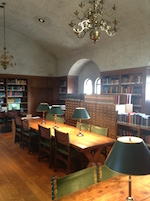 The Archives of The Cloisters houses over forty collections, most of which are open for outside research. Included are materials relating to the history of the museum such as the papers of founding director James J. Rorimer and American sculptor and art collector George Grey Barnard, whose collection formed the nucleus of the museum's holdings upon its foundation. Also held are the scholarly papers of longtime Metropolitan Museum of Art curators Jane Hayward and William H. Forsyth, and those of prominent medieval art historians Sumner McKnight Crosby, chair of the Department of Art History at Yale, and Harry Bober of the Institute of Fine Arts, New York University.
In addition, the Archives houses records of the noted art dealers Joseph and Ernest Brummer. A digital resource of the materials is available.

Other holdings include over 500 LPs of music of the Middle Ages recorded between the 1950s and 1980s, blueprints and images of the Cloisters design and construction, and over 20,000 photographs.
The library and archival collections are catalogued in Watsonline, the shared database of the libraries of the Metropolitan Museum of Art.
The Cloisters Library and Archives serves the staffs, volunteers, and interns of The Cloisters and the Metropolitan Museum, and its holdings are open and accessible to outside researchers, by appointment, Monday–Friday 10:00 a.m.–4:30 p.m.