What Our Members Are Saying: Heather Slania
Date posted
November 15, 2021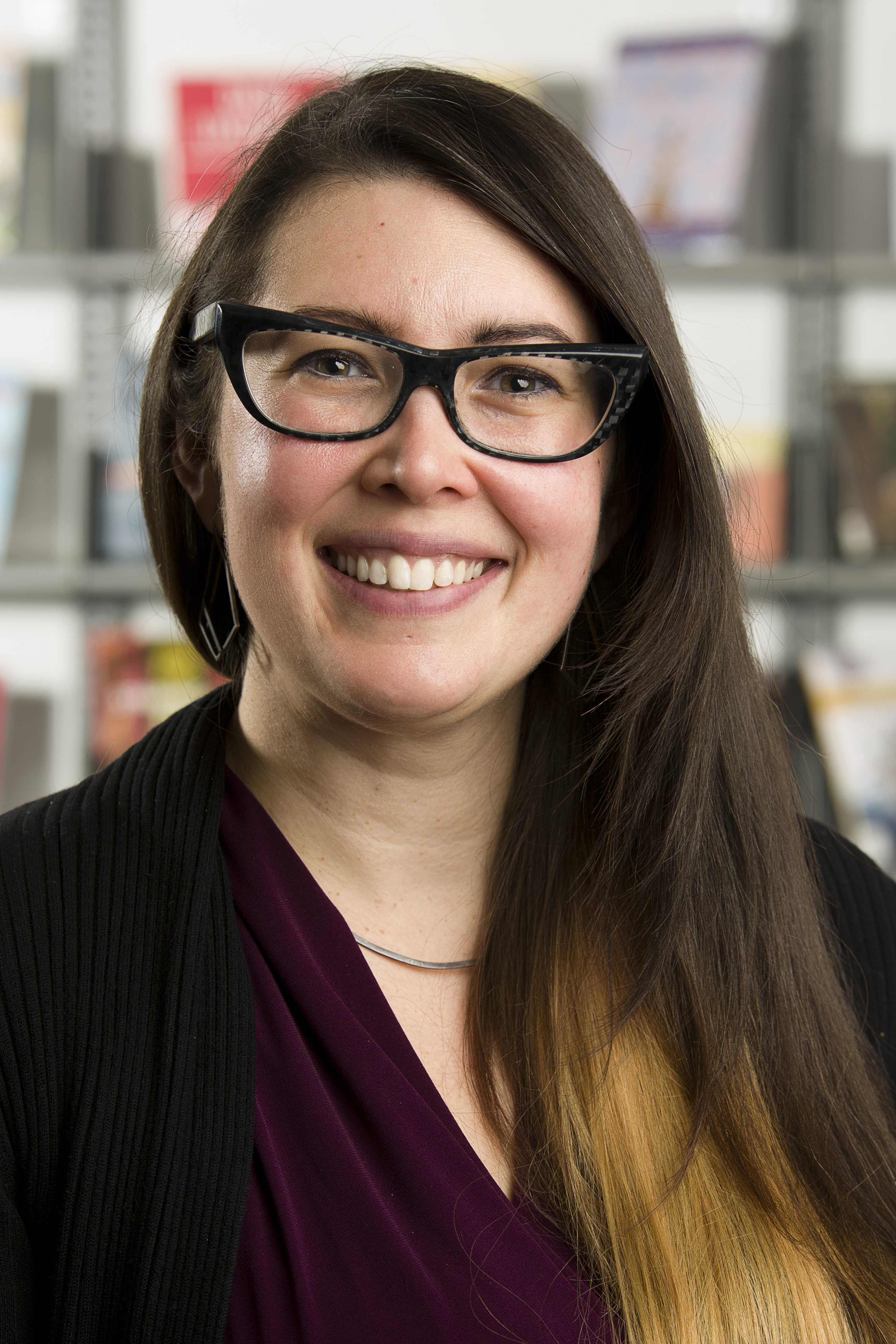 Heather Slania is the Director of Decker Library at the Maryland Institute College of Art.
What do you love about your work?
The best thing about being a library director is getting to support people's professional growth. Nothing makes me happier than seeing people succeed and do amazing things, large and small, that impact others. I also love looking at systems holistically and helping to direct iterative improvements--I've always been frustrated in positions where I wasn't allowed to enact change.
What are you working on now that you're proud of?
It's hard for me to answer that. I'm proud of the time I'm devoting to making MICA and ARLIS/NA better, but I feel like it's necessary work and something that I just should be doing. I wouldn't be happy with myself if I was letting the status quo be. I recently discussed how libraries need to move away from capitalistic business practices, as they are rooted in racism, and embrace new structures and leadership models at the New Librarianship Symposia Series. I don't know if it'll make a difference, but I'm hoping it will reach those who need it.
What sorts of ARLIS-related projects have you worked on? Is there something in particular that you found meaningful?
I began my ARLIS/NA service as a member of the Mentoring Subcommittee within the Professional Development Committee. I've since been a Chair of the Mid-Atlantic Chapter, Chair of the Development Committee, and I'm currently serving as the Education Liaison on the Executive Board. Since I like doing change work, all have been wonderful experiences, but being on the Board during the pandemic has been particularly meaningful. As hard as doing service work during the pandemic has been, we've been tackling huge issues and changes within our profession and association. The most important project for me has been acting as Co-Chair of the Anti-Racism Task Force. We've been moving deliberately, building a base of trust amongst Task Force members, and putting in the work to develop the foundations of continued race equity work in ARLIS/NA. As difficult as that work is, the people who are working on it are incredibly dedicated and thoughtful.
How is anti-racist work part of your professional life? How could ARLIS better support and challenge you in this work?
My highest goal is to be an accomplice in racial equity work, whether it's at my workplace or in ARLIS/NA. A lot of what I focus on is trying to create equitable and transparent structures, or at least highlight gaps or inconsistencies, in order to disrupt and dismantle the white supremacy culture inherent in academia and libraries.
First and always is supporting the amazing BIPOC library workers I know--my job is to be there for them and do what they need me to do. I have the privilege as library director to enact practical things like adding DEI project requirements to all librarian job descriptions (as well as having a DEI background as part of the required or preferred qualifications for all staff members). Recently I've been trying to create spaces at MICA so that white people can learn to have uncomfortable conversations about race and white supremacy culture as well as create on-ramps for race equity work. I've been very thankful for a lot of trainings and circles I've done in the past year including the Adaway Group's Whiteness at Work, GroCharity Events New Roots Racial Equity Professional Learning Cohort, and the Anti-Racist Affinity Group from Restorative Response Baltimore which have allowed me to make sure I am never staying comfortable in doing this work.
It's hard to say what more ARLIS/NA could do for me since I'm trying to be one of those who are pushing us to be better! I'd love to see more of those in library leadership positions to really admit how all predominately white institutions are structurally racist, begin pulling on that thread, and do more than create a BIPOC or anti-racist reading list or exhibition. Almost all GLAMs in North America were created in order to promote white supremacy--admitting that is the first step to starting racial equity work.
What are you reading? How is it informing your work?
I'm just starting Resmaa Menakem's My Grandmother's Hands: Racialized Trauma and the Pathway to Mending Our Hearts and Bodies. I had listened to a podcast about his work and realized that I needed to read it. From his interview with Psychology Today "My Grandmother's Hands is about our human bodies; about how trauma affects them; about how that trauma is passed down through the generations; and about how resilience and trauma interact. The same bodily forces that make us resilient can also encourage us to harm one another." Since I just started reading it, I can't say how it's informing my work but I'm sure it will!
The book I keep returning to is Emergent Strategy by adrienne maree brown. This informs everything I do, big and small. I reread it once a year and even had all my managers read it. She starts with the visionary Octavia Butler and organizes it into a framework on being in right relationship with other people making change and doing work. It's always my first book recommendation to anyone.
To be honest though, most days I'm not reading anything besides the Ask A Manager blog (which is the second thing I always recommend to everyone).
What are you finding challenging about adapting library services during this COVID-19 pandemic?
People are widely variable in what feels safe or unsafe right now, but I think we've struck a good balance. We were closed to users until Fall 2021 and now are open to current MICA students, staff, and faculty. We require everyone to be masked unless they are alone in the office. Before that we offered only virtual instruction/reference, document delivery, ILL, and contactless pickup. We created pod schedules so only 2-3 staff members were allowed in the library at the same time (and always with those same people). Now we all move freely but with a slightly different office setup than pre-pandemic. Not everyone had an office here, and with the masking requirement, I felt it was important to give as much office access as I could to those who have to be on site more. So, for example, I share an office with our Collection Services Librarian... She does the mornings and I do the afternoons, which frees up my office to be shared by people working alternate hours who don't usually have an office. It's worked out well!
I think the challenges really come when we're transitioning from one state to another. We were used to the way things used to be and then we got used to mainly working remotely. However, switching between those, or when we switched to fall... Well, it's destabilizing. It's just a hard place to emotionally be in. Now that we're mid-way through the fall, it seems things are going smoother than people worried about. The liminal space causes so much angst.
Tell us about the kind of library you work in. What do you wish other librarians understood about the kind of library you are in? What makes it great? What makes it challenging?
MICA is an Art and Design Library. We're small, 15 staff members and about 20 work study students during the academic year... However, we're one of the bigger Art and Design Schools! I've worked in huge research libraries with hundreds of librarians and a small museum where it was me and one other library staff member, and yet I feel like the same principles apply: "who is your user?" Our users are art and design students and faculty and everything we do is centered around that. It means our collections and user policies are going to be different because our users are different. We have a huge graphic novel collection, good-sized zine and artist book collections, and a burgeoning game collection...it makes sense for us.
Our students are the best part of the job. They're always working on something new and exciting (the example that comes to mind is a student who was researching spacesuit design). They do tend to damage materials more easily than students in other libraries I've worked at, so that's challenging!
How many years have you been a librarian/worked in libraries? What is the biggest change you have experienced in your career thus far?
I've worked in libraries since 1996 when I was a work study student at Northwestern University doing book conversation. I did a quick 2 years out of libraries after I graduated when I was an assistant manager of a video store (which is honestly not that much different than working in a library). So about 23 years if you take that away, 25(?!) if you keep it. Every new job is a whole new experience with new challenges and things you have to learn. Each time was formative and felt like the biggest change I had to date. Library school doesn't prepare you to actually run a library. Obviously, there's a special something to figuring out how to run a library during a pandemic! So the biggest change would have to be that, but since that is a universal experience, I would say becoming a manager for the first time was the biggest change. Considering I've gone through 3 library systems migrations to date, that's really saying something.