Distinguished Service Award: Kathryn Wayne
ARLIS/NA 46th Annual Conference), New York City, New York

Convocation Program Presentation, 2018
2017 ARLIS/NA DISTINGUISHED SERVICE AWARD Acceptance Speech by Kathryn Wayne; DSA ceremony held at the Cathedral Church of St. John the Divine, February 28, 2018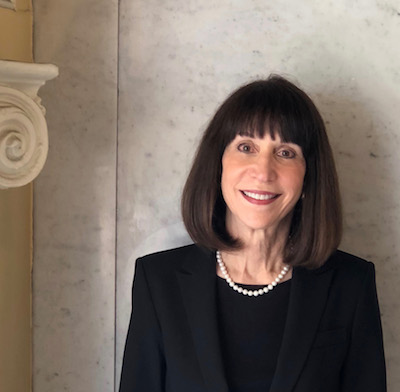 In the beginning, I was born at Resurrection Hospital in Chicago, Illinois. I grew up in Bensenville, a suburb near O'Hare airport. My mother was an artist and lay teacher at St. Alexis Catholic school, my father was an electrician and glass blower. In second grade, after my First Holy Communion, I decided to become a nun. The following week, my teacher, Sr. Dominia, went running to my mother's classroom and said there was a serious issue she needed to discuss. "Your daughter wants to become a nun!" My mother's face lit up until Sister said "She wants to become a nun and marry the Pope!" As you can see, I set my sights high from the beginning, and way Out of Bounds. Shortly after that, my parents took me to see the movie The Music Man because I loved books and libraries so much. Watching Harold Hill and Marian the Librarian sing and dance in the River City Public Library made it crystal clear--I was definitely going to be a librarian.
But at the same time, I was also confronted with another dilemma—my love of comedy. Anyone from Chicago has, at one point in their life, believed they could be a stand up comic—I went back and forth, struggling with the choice between comedian and librarian until it dawned on me that I could just be…a funny librarian.
In third grade, shocked that none existed, I established the first circulation system for the library in my classroom. After that, the nuns were always sure to use me as a consultant whenever library-related issues arose. Skipping to 7th and 8th grade, I worked in my junior high school library, and, as I was about to enter high school, the librarian, Mr. Gunlaw, suggested I apply at the Helen M. Plum Public Library. Interviewed by the very serious Ms. Roloff, I was excited to be hired as a Page at 14. I shelved books, shifted shelves, processed books, and always made sure the 700s were in perfect order.
At 17, I went to Illinois State University majoring in studio art and museum studies, and minored in library science with a goal to be an art librarian. This is when my nickname "Chuck" was coined as a result of entering a dorm-sponsored talent contest my Freshman year. I performed a stand up comedy routine where I talked to an invisible man named Chuck and won First Place and ice cream for my entire dorm floor. And the next day-- keeping things even--I interviewed with Art Librarian Steve Meckstroth who hired me to work in the art section of Milner Library. An inspiring mentor, he introduced me to ARLIS/NA and communicated the importance of connecting to others interested in the field of art librarianship.
At 23, I received my Masters in Library Science from the University of Arizona and was fortunate enough to obtain my first professional position as the Head Librarian at the College of Architecture Library. Ten years later, I assumed the position of Architecture/ Landscape Architecture Librarian at the University of California Berkeley, and then worked as Fine Arts Librarian and Head of the Art History/Classics Library for 19 years until my retirement in 2016. I loved every single minute of my 38-year professional career. What a luxury it was to be able to work in an academic library every single day, surrounded by students and faculty –in a stimulating, challenging, and gratifying environment.
I want to thank Gregg Most for spearheading this effort, along with other colleagues who supported my nomination – Andy Cahan, Jane Carlin, Lamia Doumato, Holly Hathaway, Milan Hughston, Debbie Kempe, Sheila Klos, Professor Margaretta Lovell, mentees Barbara Rominski and Alex Watkins–and several of my colleagues in the Northern California Chapter, led by Abby Bridge. Throughout the years, all of you have made an enormous impact on my professional career. I enjoyed every collaboration I had with you and I thank you for your advice, trust, patience, and help with achieving my goals. I'd like to thank all of the many colleagues I've worked with in ARLIS/NA over several decades—there are too many to name but you all know who you are and know how appreciative I am to have had the honor of working with you.
I would also like to thank the many art publishers and antiquarian book dealers that have supported our members and conferences for so many years—I have learned so much from you and the Fine Arts Collections at Berkeley are stronger because of that relationship. Finally, my accomplishments could not have been realized without the encouragement of my supervisors, the unending patience of my staff, the unconditional love and support of both of my parents, and my husband, Gary Nelson.
I would also like to thank Awards Committee Chair, Karyn Hinkle and Distinguished Service Award Committee Chair, Rachel Resnick and their committees for their tireless efforts and recommendation for my nomination. And, to theARLIS/NA Executive Board for its final approval.
I am greatly humbled and honored to accept the Distinguished Service Award, however, most of my goals were accomplished through collaborations with my librarian colleagues, publishers, students, faculty, architects, and artists. So, I share this award with all of you and encourage you to find a potential collaborator that may lead to an exciting new achievement in your own career. Consider putting your name forward to be a Chapter Chair, Committee Chair, or to serve on the Executive Board. I can assure you that experience will be life changing.
And before I ride into the sunset, a quote from Coco Chanel "if you were born without wings, do nothing to prevent them from growing."
This award means so much to me. Thank you.