Distinguished Service Award: Joan M. Benedetti
ARLIS/NA 42nd Annual Conference, Washington, DC

Convocation Program Presentation, 2014
2013 ARLIS/NA DISTINGUISHED SERVICE AWARD Acceptance Speech, by Joan M. Benedetti; DSA Ceremony held in the Coolidge Auditorium of the Jefferson Building, Library of Congress, May 3, 2014

Note: Benedetti's remarks have been rewritten to delete references to slides that accompanied her talk at the ceremony, but a video of the entire Convocation, produced by the Library of Congress, can be seen at: www.loc.gov/today/cyberlc/feature_wdesc.php?rec=6469 To see Jon Evans' introduction, go to 58:40 on the video; Benedetti's remarks start at 1:03.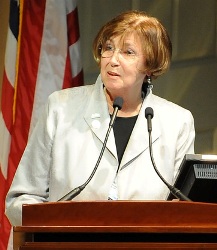 When Gregg Most told me about this award a couple of months ago, I was of course thrilled — and terrified. Just like Ted Goodman, I immediately thought: "What am I going to wear?" and then "What am I going to say?" I decided—following Ted's lead—to tell you some things about me that you might not know. You could call it a "case study."
Childhood pictures confirm I already had a book in my hand at age one. I was the daughter of two librarians who had just received their library degrees from Columbia University. My dad's part-­time job was typing cards for the Avery Index. He was in the Merchant Marines and became the head of the Merchant Marine Library. My mom headed two New York Public Library branches and then four Illinois regional systems. Incidentally, they were both artists!
In spite of my parentage, I never thought about being a librarian! I wanted to be an actress!! I had parts on the Indiana University main stage and at their Brown County Playhouse. I.U. was where (after marriage and my first baby) I got my B.A. in theater with a minor in art. But at my mother's urging, I went to talk to a friend of her's, the head of the new library science program at I.U. This was unfortunately before BJ Irvine got to I.U.
I thought—well, if I have to be a librarian, I'd like to be a children's librarian—after all, I loved children's literature. My first professional job—circa 1960s-­was as a children's librarian in Gary, Indiana—my acting experience came in handy for story hours!
By 1967 I had remarried and we moved to Milwaukee, where—by chance—I got a job as Decorative Arts librarian at the Milwaukee Public Library. Who even knew such a job existed?
Fast forward to 1975—Los Angeles—in the midst of a recession—and two more kids. After an 8-­year hiatus as full-time housewife and mother, I was ready to go back to work! It took a while, but a chance encounter at a cocktail party with a CalArts trustee changed my life.
Edith Wyle (yes she would turn out to be the grandmother of Noah Wyle—but not yet) was turning an innovative and well-­loved L.A. gallery and restaurant called The Egg and The Eye into a museum called the Craft and Folk Art Museum—or CAFAM. I didn't know anything about museum libraries, but I asked her if she had thought about including a library in her new museum—and she said "yes."
I started at CAFAM in 1976. They were putting on the first annual Festival of Masks—thousands came—and came again year after year for over 20 years!
I started as a scab—a volunteer—in a small room shared with a copying machine and other volunteers-­but I was head of the library! Shortly after starting to work at CAFAM-­another encounter enriched my professional life forever—
I met Eleanor Hartman, head of the L.A. County Museum of Art—LACMA—Library, and heard about this new art library organization—ARLIS. ARLIS gave me the confidence to be a real art librarian. And I met Judy Hoffberg, who lived in L.A. and was working on the 1977 ARLIS L.A. conference—a most wonderful introduction to Los Angeles!
By 1978, three successful grant proposals after I had started at CAFAM, we moved the library around the corner from the museum into a small Spanish-­style cottage. I had the first of many interns and my first part-­time assistant—and we were there happily for 10 years.
At the 1983 ARLIS conference in Philadelphia, we heard that L.A. would again be the conference site in 1985—and Joyce Ludmer (who was the UCLA art librarian) whispered in my ear—"You could do it—you could chair the conference!" Somehow, with an amazing conference committee, we got it done. The Convocation was held at the old Getty—now the Getty Villa.
In 1989 the CAFAM building was closed for earthquake retrofitting and the whole operation moved into the nearby landmark department store—the May Company. The library was on the mezzanine overlooking the perfume counter. Michelle Arens became my first—and only—full-­time assistant! We had just received another big grant from the Irvine Foundation.
The grant was to develop a Center for the Study of Art and Culture (CSAC)—an adjunct of the library and a "think tank" for the museum. Among the things CSAC did of which I am most proud was to produce a series of workshops on Diversity and Inclusion, specifically targeting teams of museum staff and board members. Teams from 14 L.A.-­area museums signed up.
Toni Peterson and Elizabeth Byrne were on the advisory board that included scholars of art and culture from all over the U.S.
But just three years later the May Co. department store closed and we moved back to CAFAM's original space, now safely retrofitted and redesigned by Hodgetts + Fung. All the offices and the library were moved into a neighboring building.
So—I designed yet another library—are you keeping track? This was CAFAM Library #4 and we got a fancy new sign: it was called the Edith R. Wyle Research Library. But my idea to name the library after the founder didn't help in the long run because two years later CAFAM closed again—this time we thought it was forever.
Many meetings were held in the library to decide what to do. It was decided to sell the permanent object collection, and instead of packing up the library—­which I knew would make it disappear forever—we decided to give it away. Then everyone was laid off.
This was when my ARLIS network really came through for me. After 21 years, I was a volunteer again. I got on the phone to Southern California chapter members and we received proposals from 8 area art libraries to take the CAFAM library and—oh yes—the "archives"— that is 32 years' worth of institutional records, including catalogs, announcements, posters, film, video, and thousands of exhibition and event slides that would otherwise have been thrown away.
The library—around 7000 volumes at that point—was given to LACMA. Thanks to Debbie Smedstad, who was then the Head, I went to LACMA too as a part-­time cataloger.
And the CAFAM Library went back to the May Company, which by that time had been purchased by LACMA and was now known as "LACMA West." This time it went into what had been a back room of the linens department. But it looked pretty spiffy when it was re-­done.
CAFAM, by the way, reopened 18 months later-­minus its library and archives and its permanent collection, which was sold at auction.
And the CAFAM archives—32 years of staff files that were almost thrown away—first they went to UCLA Arts Special Collections and then they went to UCLA Special Collections—and I got to work on them a couple of days a week for almost 13 years! Several graduate fellows helped me process 250 cubic foot boxes into 550 archival boxes—225 linear feet-­it's one of their largest collections. The finding aid went up online last year.
During all this time, ARLIS helped keep me sane. Mari Russell and I co-­chaired a panel on Native American Contemporary Art for the 2001 L.A. conference. And I got to work as writer and editor on the conference publications.
2 years later I retired from LACMA—and that began one of the most satisfying periods of my professional life—finally I had time to write! I reflected on the differences—and the similarities—of working in a relatively small, specialized art museum and a very large encyclopedic art museum-­and I persuaded the ARLIS Publications Committee to let me edit a book about art museum libraries and librarianship, which was co-­published by ARLIS and Scarecrow Press in 2007.
Four and a half years ago I moved to Santa Fe, New Mexico. I envisioned my life there as an idyll of reading for pleasure and enjoying the eight wonderful Santa Fe museums.
But of course, I've become involved with the ARLIS/NA Mountain West chapter.
And my husband Beny and I live within sight of the Museum of International Folk Art, which has the largest collection of international folk art in the world-­so naturally I have been working with their support group, the Friends of Folk Art.
At the 2013 Folk Art Flea Market, we made over $92,000 for the museum.
But I have a new bumper sticker on my car that says: "I'd Rather Be Reading."