What Our Members Are Saying: IRC Study Tour 2019 Venice
Date posted
September 22, 2019
The International Relations Committee (IRC) 2019 Study Tour Scholarship Recipient Chantal Sulkow reports the experience of Venice, June 10-16.
This year, I was the recipient of the ARLIS/NA International Relations Study Tour Scholarship, which made it possible for me to join the 2019 ARLIS/NA study tour in Venice, Italy. This trip was my fifth visit to Italy, and my fourth time in the city of Venice. Italy has always held a special place in my heart; my area of art historical interest has long been Italian Renaissance and Baroque art, and I have always felt an overwhelming sense of connection to Italy, and Italian history, culture and art. While I had been to Venice before, it had been many years since my last visit, and I had never gone "behind the scenes" at the institutions on the itinerary. Indeed, visiting with ARLIS/NA was an experience unlike all the others.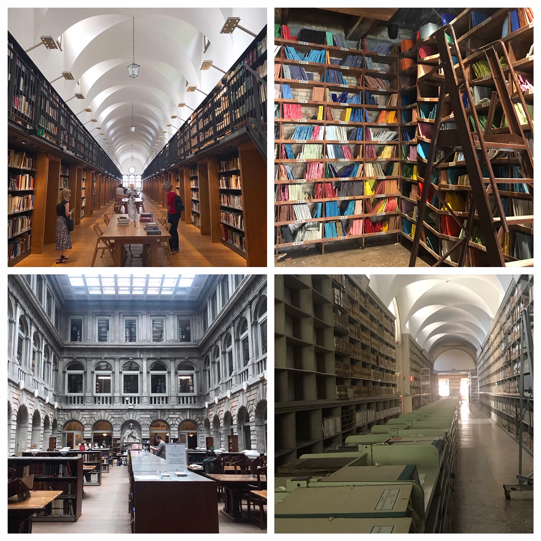 Clockwise from top left corner:
Fondazione Cini, Nuova Manica Lunga Library; Fornace Orsoni's Glass "Library";
Archivio di Stato di Venezia; Reading room of the Biblioteca Nazionale Marciana

Our group spent five intensely exhilarating days in early June visiting libraries, museums, archives and cultural institutions throughout the city of Venice. We stayed at the Vittore Branca Center Residence at the Fondazione Giorgio Cini on San Giorgio Maggiore, a tiny island just across the lagoon opposite San Marco. The location of our lodging was remote enough to create the magical feeling of staying on a private island, yet close enough to the center of the city's activity that one could hop on a vaporetto and be standing in front of San Marco in minutes. Fondazione Cini was an impressive home base; a renowned research institution, the complex included two cloisters, a Palladian Refectory and a grand staircase by Baldassare Longhena, as well as the collections of the Nuova Manica Lunga Library. I was enchanted to discover that one of the balconies at the Library looked out over the life-size "Borges Labyrinth" which had been created in 2011 to coincide with the 54th Venice Biennale and the twenty-fifth anniversary of Jorge Luis Borges' death.
At each site we visited we were welcomed warmly and enthusiastically by our Venetian colleagues, and our week was absolutely packed. We visited the Biblioteca Nazionale Marciana, one of the oldest public libraries and depositories for manuscripts in Italy, whose doors were flanked by pairs of monumental stone statues and whose reading room was a repurposed cloister, and across the Piazza di San Marco we visited the Museo Correr, whose collections were dedicated to both the art and history of Venice. We attended a fascinating talk about the history of the recently established Rosand Library at Save Venice, an organization working to preserve the artistic heritage of Venice, and we were hosted at the Archivio di Stato, where we saw a warehouse of archival documents, some dating back to the 1300s. We toured the library and collections at both Fondazione Querini Stampalia and at Ca' Pesaro, and then at Ca' Foscari University we visited both the philosophy and art history departments, followed by a tour of the university library. We journeyed to Marghera, a borough of Venice, to visit the Biennale Archives, where we learned about Biennale history, and saw selections from their photo archive and extensive Biennale poster collection. We also had an evening visit to Fornace Orsoni, the last remaining glass furnace in Venice proper, where we saw a glass laboratory and library, and watched artisans hammering tiny mosaic tesserae. The week culminated in a Symposium held at the Fondazione Ugo e Olga Levi, "Building Bridges: Art Libraries Between Venice and North America". Roger Lawson, Thomas Hill and Mark Pompelia spoke, and we heard from a number of our Venetian colleagues. Professionally, it was invaluable to meet Venetian librarians, archivists and curators, and to make new connections and friendships.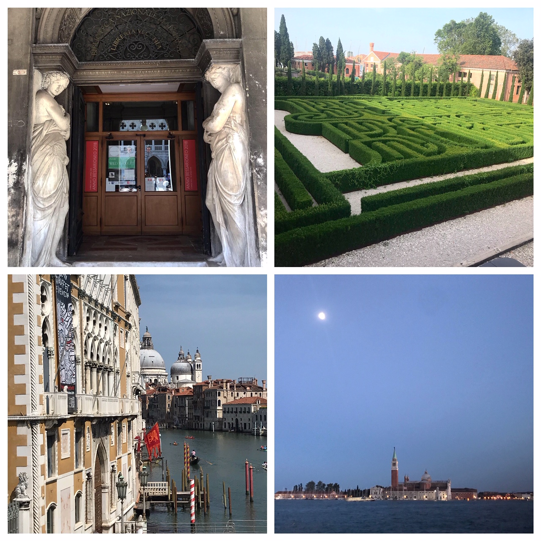 Clockwise from top left corner:
Entrance to the Biblioteca Nazionale Marciana; View of the Borges Labyrinth at Fondazione Cini;
Moonlight view of San Giorgio Maggiore from San Marco; View of the Grand Canal from the Accademia Bridge

A generous grant from the Delmas Foundation covered the price of tickets to the 58th Biennale di Venezia, with which we were incredibly fortunate to coincide. After the study tour itinerary ended, I was able to see most of the main exhibition, May You Live In Interesting Times, as well as several of the offsite Pavilions, including the Golden Lion winner, the Lithuanian Pavilion's exhibition, "Sun & Sea (Marina)". My Biennale experience was one of the revelations of my trip; being a fan of Renaissance and Baroque art, I was unprepared for the excitement of seeing modern art installations and interventions in Venice's historical spaces. I found the juxtaposition of the old and new to be invigorating, and I hope to be able to return to future Biennales. In addition, I attended a modern art opening at Villa Barbaro di Maser in Treviso, a Palladian Villa with a classical garden, a nymphaeum, and walls frescoed by Veronese; I also found time to go to numerous churches, the Gallerie dell'Accademia, the Scuola Grande di San Rocco, the Basilica di San Marco, and the Palazzo Fortuny.
I would like to acknowledge the tour's organizers, Isotta Poggi and Spyros Koulouris, who worked tirelessly to plan a truly outstanding itinerary, and I am grateful beyond words to the International Relations Committee for making it possible for me to return to Venice through this award. I feel extraordinarily fortunate to have had this incredible experience, especially in the company my ARLIS/NA colleagues. This trip was a true opportunity to "build bridges" between American and Italian libraries and librarians.
Chantal Sulkow
Bard Graduate Center
Please see the study tour website for details about the program.
Intro image courtesy Flickr user Pedro Szekely. The image was cropped slightly to fit the requirements of the template.