Distinguished Service Award: Sherman Clarke
34th Annual ARLIS/NA Conference, Banff, Alberta, Canada

Convocation Program Presentation, 2006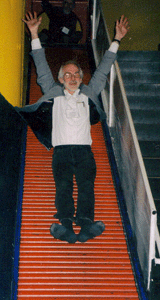 Thank you very much, Liz, for putting together those comments. I don't really know how to respond. Well, there are lots of ways I could respond. I threatened Liz with a dada poem of mismatched meter and no rhyme, composed mostly of MARC field and AACR rule numbers. You're lucky because I'm not a poet. I would much rather sit in a circle talking about cataloging issues than stand in front of you all. But you all are what has made this so enjoyable and relatively easy. I'm really glad that librarianship is a collective activity.
I have been incredibly lucky to find a profession that used my native abilities to stick things in pigeon holes and to describe how things are alike and different. It seems to me that is what cataloging is about. My office neighbor says that the scholars are spending their efforts breaking the boundaries and it is our duty to apply some organization.
You have probably heard it argued that original cataloging is difficult. My colleagues in the visual resources arena say they do only original cataloging. But you don't want to be too original because you would be doing a disservice to the user of your cataloging record. You want to find the similarities to other items you've cataloged. It goes back to Cutter's principles of finding something when you know the author or title, or finding what a collection has on a particular topic. You want to say that author's name the same way each time. You want to express a subject in the complementary way and provide references between related subjects.
Cataloging is always evolving and the past couple weeks have been particularly exciting, as well as frustrating and just confounding. We were greeted this past week with a news release describing a conflation of OCLC and RLG. It is my sincere desire that the wealth of RLG's special programs doesn't get lost among the incredible resources of OCLC. The conflation news followed by only a few days the shocking news that LC would no longer try to control series titles. They're responding in part to a lot of early retirements a few months ago. Many series titles will be just fine, at least in LC's system, the way they plan to do series access in the future. But it's still a shock to the system -- personally and the cooperative cataloging world -- to think of letting series titles just go meander into keyword territory.
We're still trying to figure out how our library catalogs can effectively interact with other means of access like web browsers. That's not new, of course, since you always had to combine the catalog search with a visit to the indexing table or the archives. The seeming ease of electronic access makes us want to have one-stop shopping for researchers at the same time we know that it can't be easy, the synthesis of information is not something that can yet be automated.
My first library job was in the mid-1960s at the Ceramics College Library in Alfred where our work was guided by Lois Smith, a wonderful librarian and Quaker. Her approach to life and work has been an inspiration throughout my career. That was my summer and vacation job; during the year, I was the student worker in the slide room at SUNY New Paltz. The ability to combine love of art with work was too splendid. It was wonderful to be getting out of grad school and library school, and entering the library profession, just as ARLIS/NA was getting off the ground. If I have been able to help new ARLISers into the fold as I was helped, it will have all been worthwhile.
I do value beyond words the people I've met, the things I've learned, the wonderful places we've been, and I thank you from the depths of my heart and soul for this high honor. By the way, I don't plan on retiring right away though I do share my birth year with Bill Clinton, George W. Bush, Cher, Bette Midler, Goldie Hawn, and a whole bunch of other boomers.