Distinguished Service Award: Patricia Barnett
ARLIS/NA Conference, Indianapolis

Convocation Program Presentation, 2009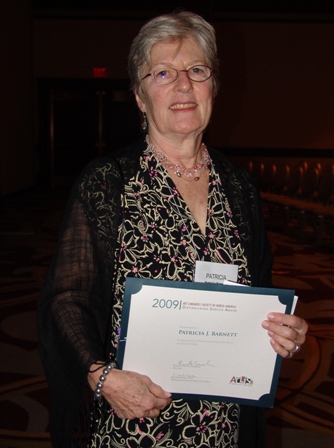 Dear Friends and Colleagues,
I am deeply honored to have been nominated for, and to have received, the Distinguished Service Award, and I am truly overwhelmed by this recognition that comes from my peers in the art library profession. Thank you.
I hope that I can always be a mentor to others. Sharing information energizes me, and, like so much else, information accumulates with time and experience. I believe that people work best when they understand the context they work in, and understand how what they do, whatever they are responsible for, affects the whole. A library is very much an organic whole, and works best, when all the parts and persons work together with respect and understanding.
I was fortunate to be mentored and encouraged by a talented community of library and project directors like Toni Petersen, Deirdre Stam, and Angela Giral. It was the pre-Internet era. The work of this period established the basis for many collaborations, programs, and life-long friendships among ARLIS/NA members.
My leadership role at the Frick Art Reference Library was an opportunity of a lifetime. I am indebted to a talented staff for what I was able to accomplish from the development of the online catalog FRESCO to the timely Center for the History of Collecting in America.
With the formation of NYARC, the New York Art Resources Consortium, and with my colleagues Deirdre Lawrence, Milan Hughston, and Ken Soehner. I felt like we were picking up from an earlier, unfinished era of collaboration, but this time, with exciting new opportunities and possibilities. Here was the wave of the future--not a trend, but the very soul and survival of libraries. Focusing on the strengths and uniqueness of each of our libraries, we faced the hard questions like the spiraling costs of duplication, whether items or efforts, and the eventual sharing of processes, storage, and technologies.
This is where we need to go, and ARLIS/NA will play an important role as facilitator. The goal of art librarianship has not changed--to support and sustain research. How we bring our experience and expertise together has. I intend to participate in this new era, as advisor, consultant, mentor or friend.